Hello! It's time for another update, and once again it's a rather big update with a feature that people have been waiting for. So let's jump right into it!
Player Matchups
Yes, it's finally here! You can now compare yourself with everyone else!
Head to Time Trial -> Matchup to start to compare two players to each other. This feature is for Time Trial only for the time being, but it may get added for other modes as well in the future.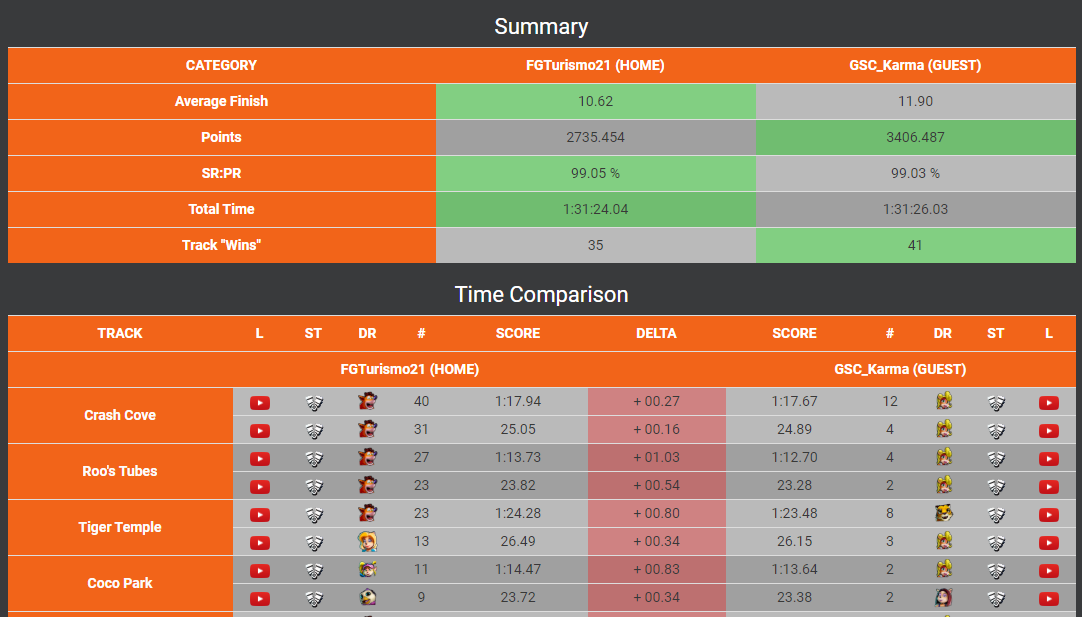 You can compare the different rankings, as well as the score for each individual track. The two players are split in "Home" player and "Guest" player to make comparisons easier. The Delta is the time difference between the two players that are shown, and it's color coded for easier overall comparison.
This tool should help you to compare yourself on a personal level. Maybe you'll start a small war against one of your friends? Or are you comparing yourself to your idol to see how much you still have to improve? Everything's possible!
As usual, if you find any bugs or have further ideas, let us know in our Discord server!
More Game Information
Thanks to Discord user Excessiveiser, we can offer a new page which contains a gallery of all checkpoints on all tracks!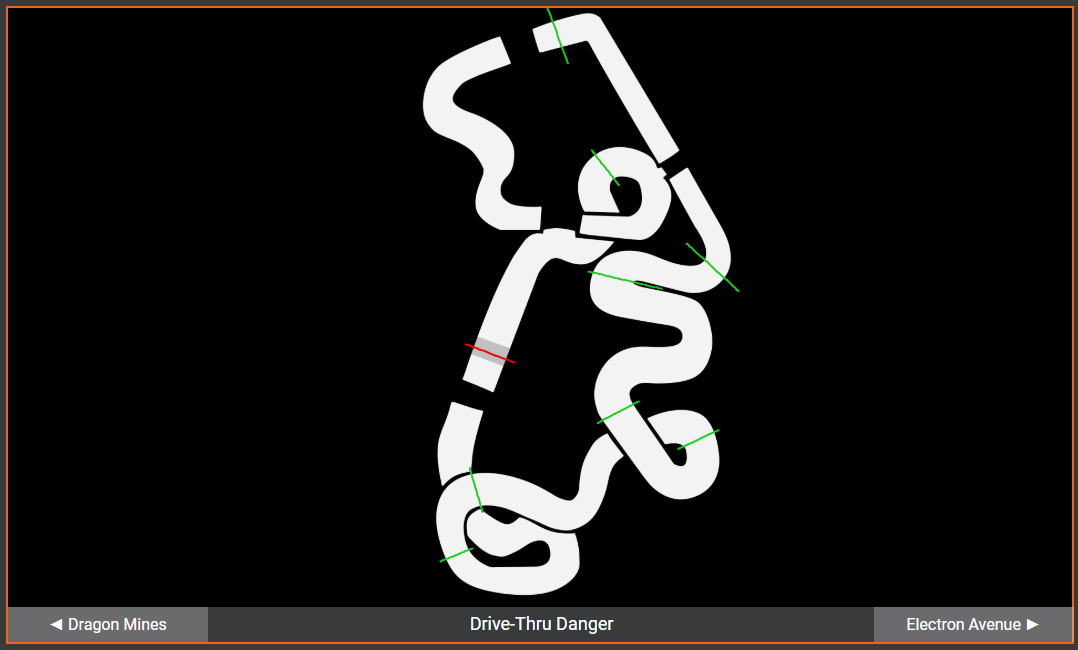 With this page in place, we decided to move all game information to it's own subtab. Check them out in Info -> Game Atlas -> Checkpoints.
We plan to add more maps in the future, such as Relic box positions, Ring Rally ring positions etc.
Miscellaneous
Website Security Update: We've increased the website security behind the scenes. You shouldn't notice any changes, but we can't always check everything, so for this one it's especially important that you let us know if anything broke!
Competitive Tab: The Competitive Tab has been moved from Info to Misc. since it's mainly handled by other Discord servers. Speaking of, the Misc. tab has been reordered a little.
"Submissions" renamed: Nothing major, but having "Submit Time/Score" instead of "Submissions" should make it more clear what that menu option is for.
Small Bugfixes: Splat!
Roadmap
With this feature being done, most main features are finally functional. However, there's still more to come:
Update 1.8.1 will focus on adding rankings for the other gamemodes, as well as bringing more Game Atlas pages, as mentioned above.
The Tier update is still in the making, but we're slowly making progress on that one. Please remain patient.
Another update that's overdue will be a Landing Page overhaul. We have plans to make the landing page some kind of HUB-Area for the most important pieces of information for all leaderboards.
Thank you very much for reading, and stay tuned for future updates!
Leniovias,
CrashTeamRanking Developer